Higher Ed and Pope Tech
Pope Tech was created with Higher Education in mind. We serve higher ed institutions with many unique needs.
Schedule a Demo
Pope Tech Resources for Higher Education
Whether you are just getting started with web accessibility or a veteran at it, Pope Tech has a suite of resources available to help you improve digital accessibility across your whole .edu.
For any questions view our FAQ for Higher Ed or contact us.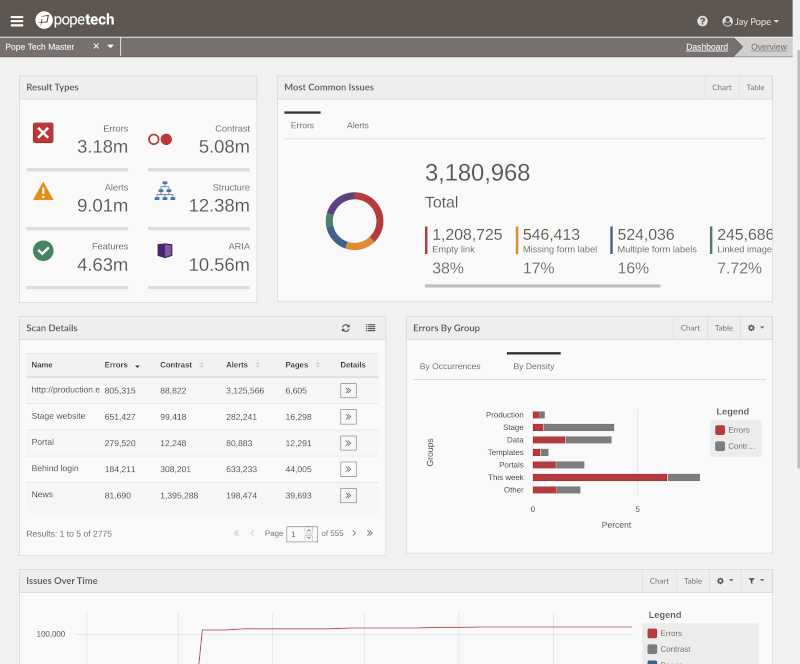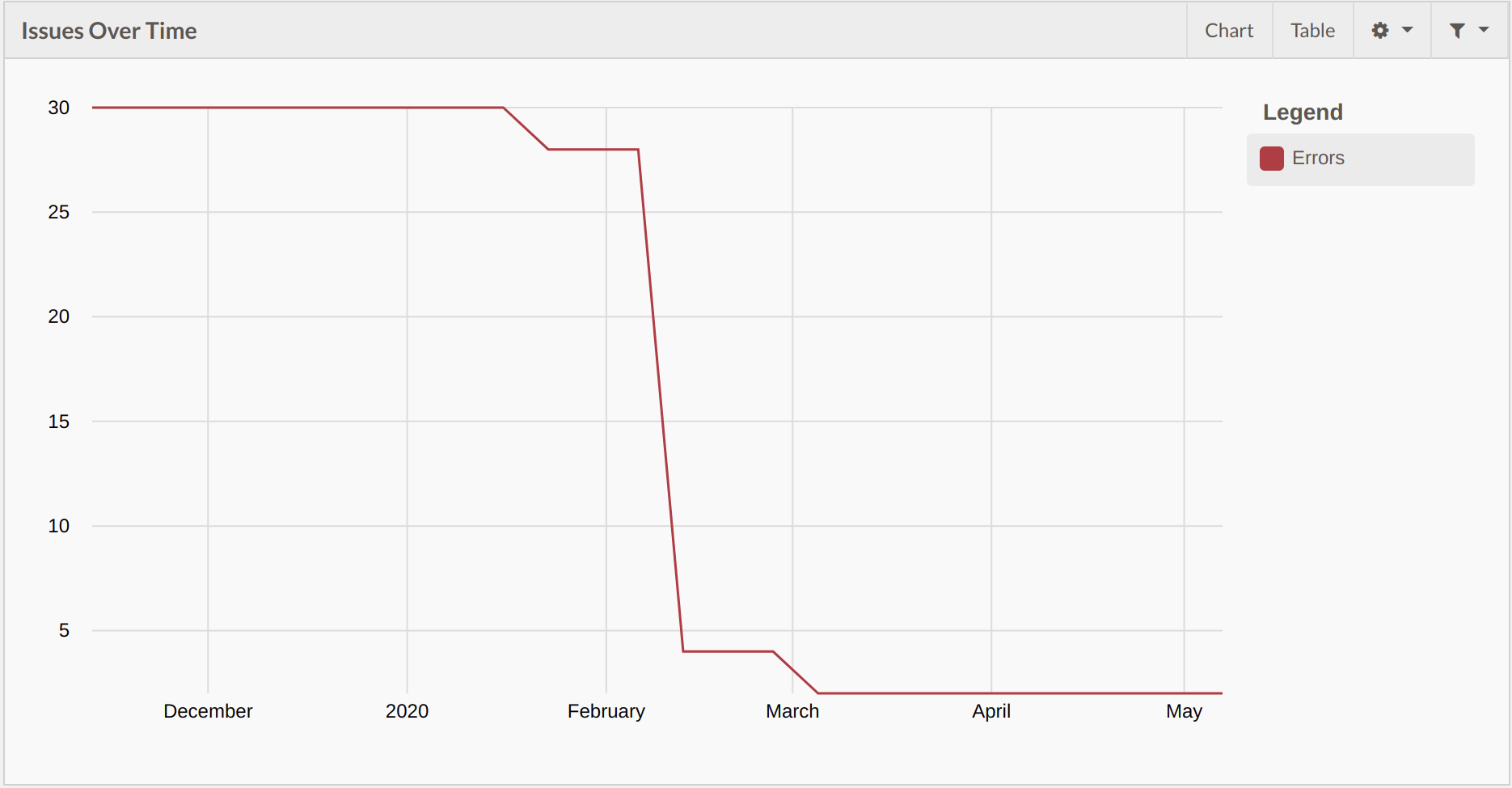 Free 250-page Higher Education Account
Just getting started with automated scanning? Or just want to try out sitewide scanning using WAVE?
Pope Tech offers a free, 250-page account to all higher education institutions. No commitment, no obligation, no follow-up marketing/sales pitches. This is your account to use as you choose to scan websites at your .edu. Request access to a free 250-page account today.
Higher Ed in 4k Project
Want some insight into how your institution is doing?
In October 2019, Pope Tech conducted the first, large-scale analysis of the accessibility of Higher Education websites. Using a list of nearly 4,000 .edu domains from US governments IPEDS data, we scanned up to 100 pages from each institution.
This is a living project in the sense that you (higher education institutions) can request access to an account with the pages we scanned. Your 4k account allows you to view what errors were detected, go fix them, rescan your pages, and improve your institution's accessibility.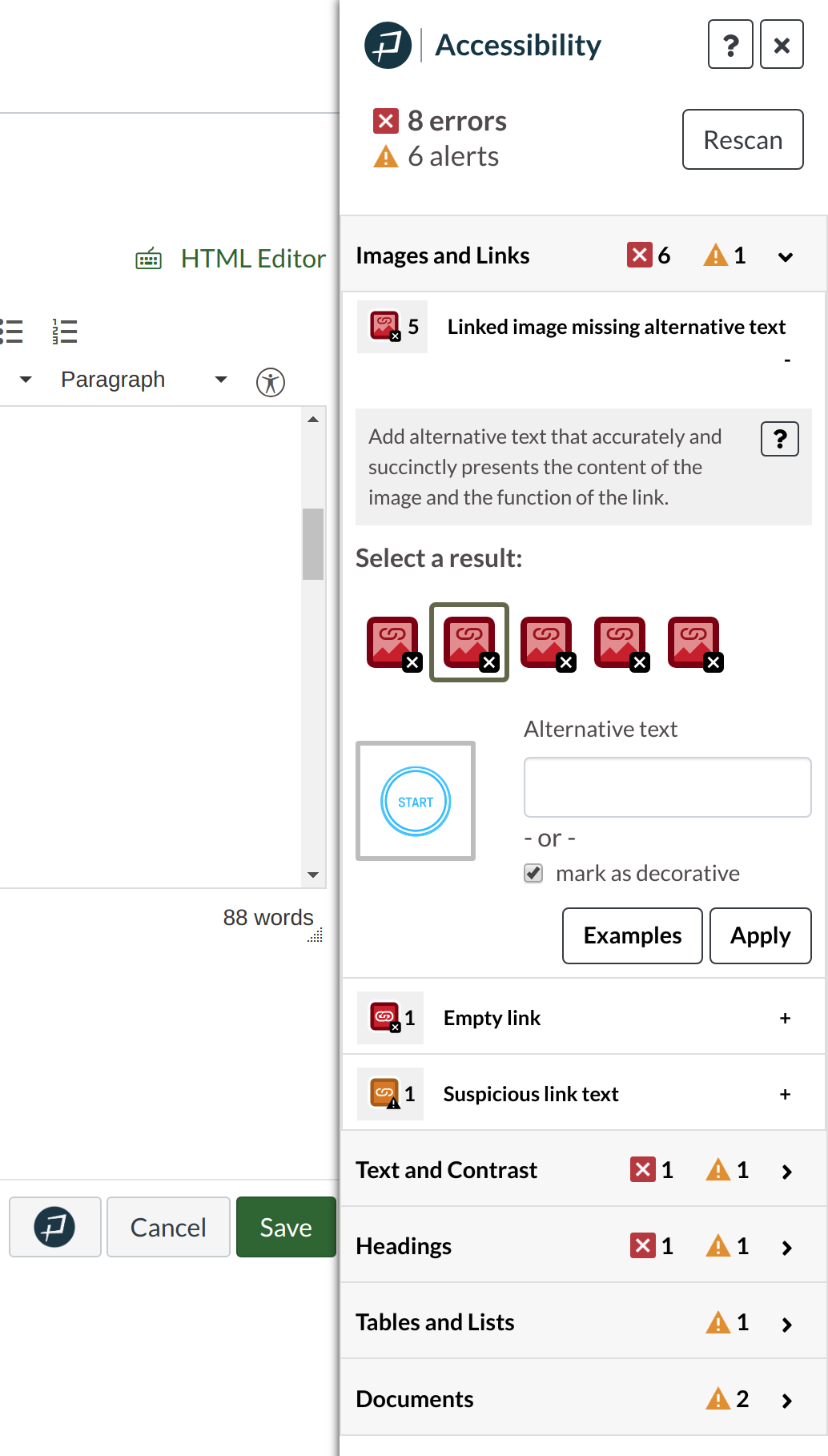 Instructor Accessibility Guide
Want to perform WAVE accessibility scans inside of your institution's LMS?
Our interactive Instructor Accessibility Guide integrates WAVE accessibility tests right into instructors' Learning Management System (LMS). This provides instructors with accessible, fast, and accurate web accessibility testing for their courses as they create and edit them.
Our easy to use interface gives instructors instant feedback on detected accessibility issues on any page. Integrated documentation and examples are also there to help guide instructors through creating more accessible content. It makes creating accessible content easier for novice and expert accessibility users alike.
The Instructor Guide launched in May of 2020 in the Canvas LMS and is available to purchase.
Institution-wide web and web app scanning
Tired of doing one-page-at-a-time scans? Wish you could perform site-wide or even institution-wide WAVE scans across your whole portfolio of websites and web apps? We can help you do that.
We take the power of the WAVE engine and provide institution-wide, automated scanning and reporting for all your websites and web applications. All of our web accessibility products have been designed with Higher Education in mind.
Our Dashboard and exportable reporting allows you to:
Perform institution-wide WAVE scanning and reporting of your entire portfolio of websites across your institution
Conduct scans of web apps as part of your procurement process
Document and Monitor progress overtime
Create flexible grouping structure that matches your institution
Schedule and send reports to the right people
Setup roles and permissions to give each user just what they need
Separates content and template errors for each other and assign users based on roles to access only content errors or only template errors (or both)
Scan portals and behind logins
Add unlimited users and websites
Perform unlimited rescans of the same pages (rescanning doesn't cost extra. Why should it?)
Access easy to understand documentation on how to fix errors
Utilize our mass importing features to onboard your entire portfolio of websites and their platform settings all at once.
Add and manage users through your Shibboleth SSO
PDF accessibility scanning
PDF testing will be coming soon. Let us know if you want to be notified when we are releasing our PDF scanning tool.
What else?
We are always open to suggestions from our community of people working to improve digital accessibility. What are the next modules or features that could help you in your job and improve your institution's digital accessibility? Don't hesitate to let us know what you need, or just wish you had access to.
Testimonial
"Pope Tech provides a great product to help you get a high level of view of how accessible your websites are or hone in on specific pages or even sections of an individual page. The tool also provides robust user management tools that allows us to provide access and information to users in a way that works best for them. Beyond the product, the Pope Tech team provides incredible support and does a great job in understanding our needs to improve their product."
Christopher Phillips
Electronic and Information Technology Accessibility Coordinator Center for Innovative Design and Instruction
Utah State University
FAQs for Higher Ed
How does purchasing work?
Our purchasing process can be as simple as emailing us the page count you want to start with and we send you an invoice with terms of use. With that being said, if your institution has additional purchasing policies, we can handle that. We will work with you.
Typically institutions request a live demo where they ask questions and we show them how our product can help improve their web accessibility. We value education over sales. We don't have a sales team, and no one at Pope Tech is paid off of commission. The demo will be provided by someone who knows web accessibility and uses and supports our products. After the demo we will only follow up with you as much as you ask us to.
If you want to just try it out on your own email us and we can set up your account and answer any questions over email
How does pricing work?
Pricing is based on page count and your organization's needs. From 100 pages to tens of millions of pages we can help you simplify web accessibility.
With any Professional Plan you get unlimited users, unlimited websites/courses, and you can rescan the same pages as often as you want (no extra charge).
Will you do an RPF?
Absolutely. If your procurement process requires an RFP, send us over the requirements and submission information. If it is in scope for our services we will put together a proposal.
What assistance do you offer with onboarding?
Our Onboarding and Training Team is here to assist in getting your account set up and your users trained on using Pope Tech. We can help by strategizing with your accessibility team how to best use our platform, helping you onboard your whole portfolio of websites, and provide admin and user training. There is no additional cost for onboarding or training you how to use our platform (Why should there be?).
Our platform is easy to use, our quick start crawl and scan video (one of the videos in our documentation library) is less than 3 minutes long. Reviewing this video is all most users need to get started with their first scan.
If you need your whole portfolio of websites onboarded, our mass import tools can be used to upload all your websites, bulk crawl them, and then perform group or bulk scans. We can typically help you get your whole .edu onboarded and get you your first institution-wide accessibility reports within a day.
What training do you offer?
We typically schedule one or two online training sessions during onboarding (an admin training and a user training). Training can be recorded and made available for future reference and internal training. If you would also like us to provide semi-annual Q/A or training sessions for new users, we are happy to do that as well.
What type of ongoing support do you offer?
After onboarding, and initial training, we will continue to provide all users with support while using Pope Tech. We have a growing library of guides, videos, real-life examples and their fixes, and support documents. Any user in the platform can also submit a support ticket.
We would be happy to answer any other questions you might have. Contact Us