Canvas LMS Accessibility
Simplify Course Accessibility
Pope Tech's Canvas accessibility solution helps everyone, admins and instructors, create more accessible courses.
Our solution includes two accessibility tools, which are both powered by WAVE, one of the most used accessibility testing engines in the world.
The first tool is the Accessibility Guide, which quickly helps fix accessibility issues all while scaling accessibility training at your institution.
The second tool is the Accessibility Dashboards, which give admins and instructors data unique to their role, so they are motivated to take action and can see progress.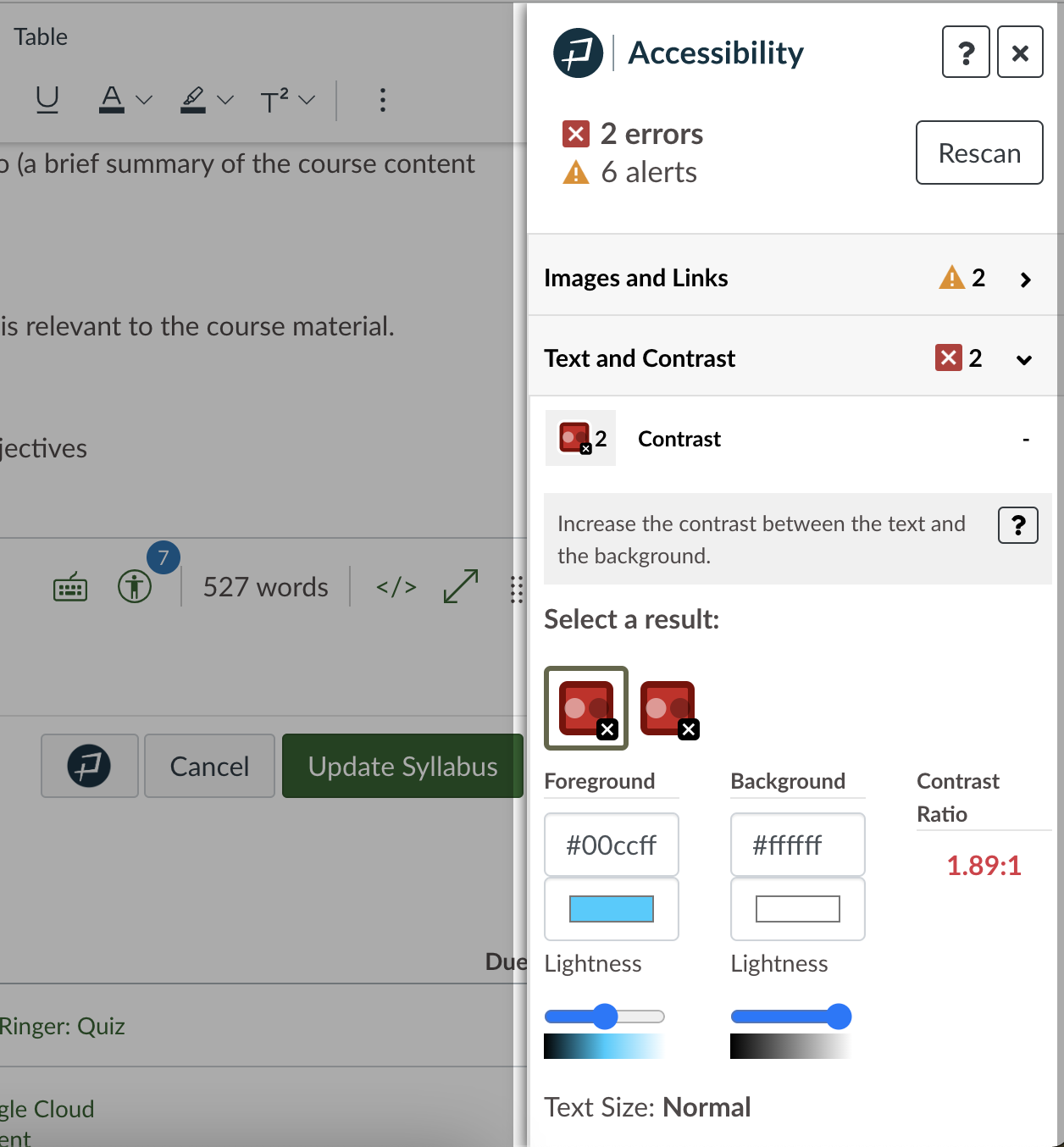 Everyone can quickly make courses more accessible
Get a clear list of issues and quickly fix them in your current workflow.
The Accessibility Guide works on editable content like pages, syllabi, assignment and quiz descriptions, announcements, and discussion topics.
To activate it, anyone who can edit content selects the Pope Tech button. Then, the Accessibility Guide will show up on the right side of Canvas making it easy to see the content and the Guide. This means instructors have fast and accurate web accessibility testing for their courses as they edit them.

Once activated, it'll list all the accessibility issues in the content. From there, it's as easy as going through the list. The Guide will tell you exactly what it needs and even fixes most of the issues for you.
Our easy-to-use interface makes creating accessible content easier for accessibility beginners and experts, which means everyone can participate in making courses accessible.
Scale web accessibility training
Learn while fixing issues.
While fixing issues, people start to learn what the different accessibility problems actually are. Then, each accessibility issue has an action blurb that tells them exactly how to fix it, so they learn how to fix it and prevent it in the future.
If there are more questions, they can explore the documentation and examples. Each issue has documentation that explains what it means, why it matters, how to fix it, and how the algorithm detects it. Results also have common examples of correctly applying the accessibility principle.
On top of this, there's an overall help button that gives an outline on how to use the guide, which has a form that sends a message to an email of your choice, so instructors can email specific accessibility help questions to an accessibility coordinator. We continue to add to our accessibility resources with how to videos and accessibility topic articles and videos.
Check out our Canvas Accessibility Guide and Dashboard documentation for more.
Data unique to an admin's and instructor's role
Three Accessibility Dashboards to see where the issues are and how accessibility is improving.
Our Accessibility Dashboards give institution-wide scanning and dashboard reporting of all HTML content across all Canvas courses.
You'll access and see the dashboards right in Canvas, and can export or schedule reports to share with people outside of Canvas.
The dashboards give each user the level of reporting needed for their role. For example:
Instructors have a summary dashboard of all their courses and individual views of each course. They can also drill into the Accessibility Guide right from their dashboard to view and fix issues.
Sub-account owners have access to dashboard reports for their sub-account, as well as individual courses and pages.
Admins can see summary dashboards for the entire account as well as sub-account dashboards and individual course and page results.
The instructor dashboards proactively raise awareness of accessibility across the institution by giving instructors a view into their courses' accessibility. With access to data that shows their most common issues, they are empowered to improve their own course accessibility.
All while admins monitor accessibility for the entire Canvas institution and track improvement overtime. With everyone able to access the data they need, your institution can decrease liability and increase access for all students.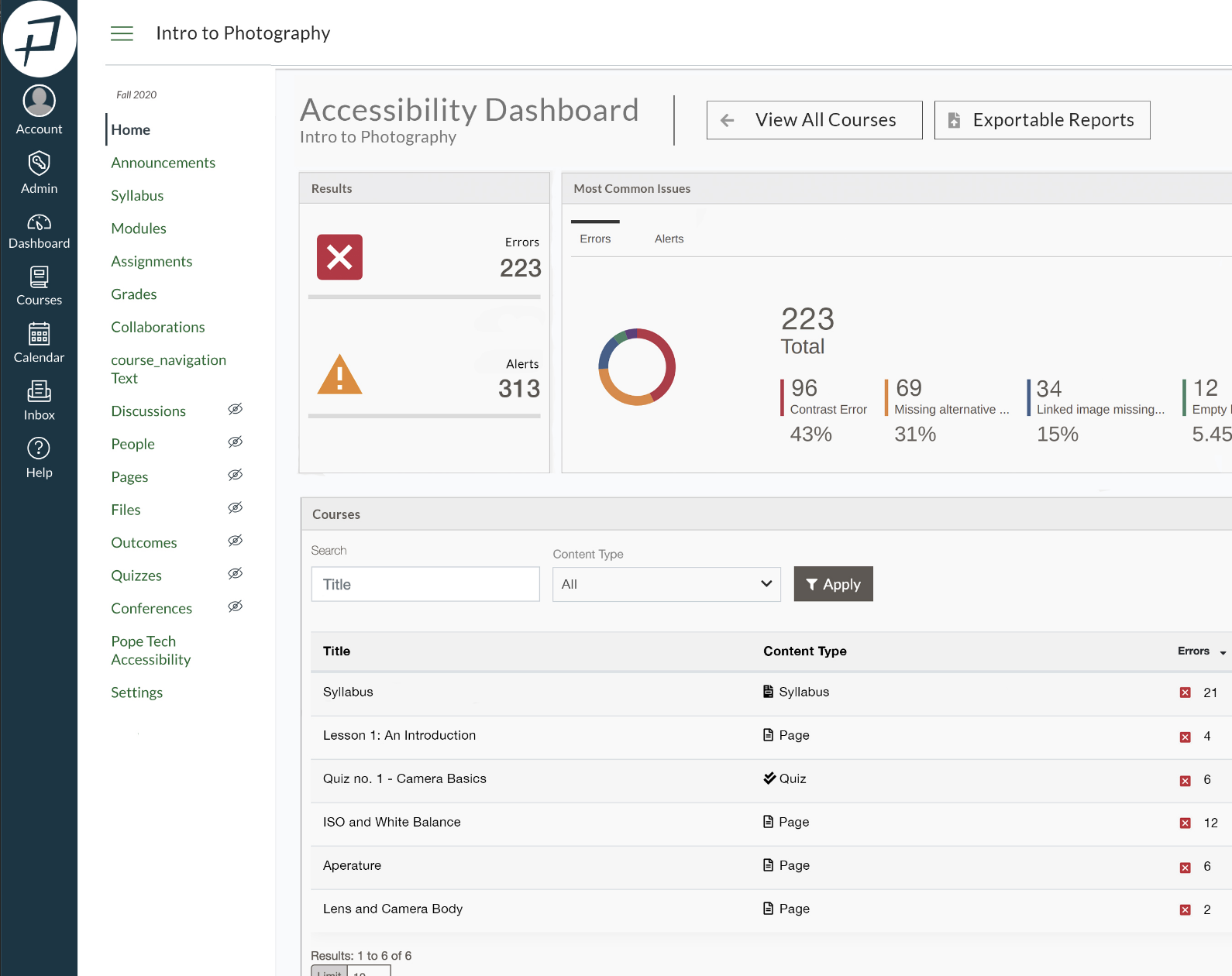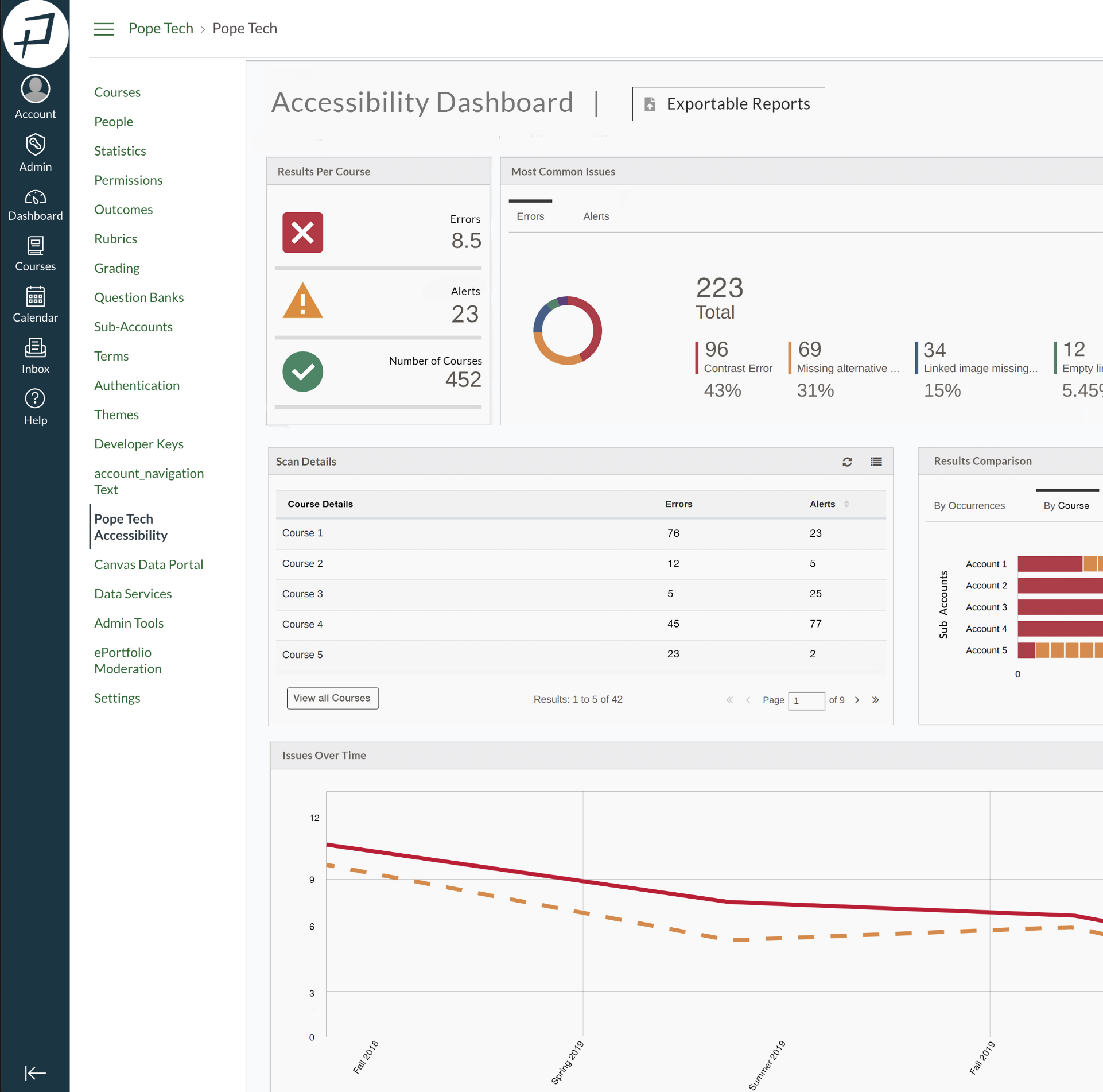 ---
FAQs
Pricing
Our pricing model is based on student full-time equivalent (FTE). For a more specific estimate based on your institution, contact us or schedule a demo.
What types of content do you test?
All HTML content in Canvas is tested. Additionally, images are tested for common issues like long, repetitive, suspicious, or no alternative text. We identify external links to Excel files, Word Documents, PDFs, and other non-html documents. We don't currently test them but identify them to be tested.
What about videos?
We detect if YouTube, Canvas or any HTML5 videos are embedded. We don't test if the video has human captioning but identify them to be tested.
Do you provide alternate file types of content?
No, currently we don't support this feature. What features we add is determined by our users and community feedback. We can connect institutions to other providers who offer this service.
What is needed for the integration?
The following technology is used for the integration:
Canvas LTI (Learning Tools Interoperability) - Used for all dashboards and admin integration settings.

JavaScript added in custom theme in Canvas admin

- Used for the Accessibility Guide and integrated accessibility scores.
Canvas API - Connects with Canvas Live Events API and used to know when a page is updated to scan the accessibility of the content.
Will changes made with the Accessibility Guide stay if service is canceled?
Yes, all changes made with the Pope Tech Canvas integrations are updated directly in the Canvas content. Nothing is stored on our servers. Although some of the changes can't easily be made directly in Canvas, they are the same as if you manually edited them directly in the HTML inside of the Canvas editor.
What assistance do you offer with onboarding?
Our Onboarding and Training Team is here to assist in getting your account set up and your users trained on using Pope Tech's products.
The Accessibility Guide is easy to use with inline support, and a growing library of help documents and videos.
We would be happy to answer any other questions you might have. Contact Us.