Pope Tech Canvas LMS integration
Powered by WAVE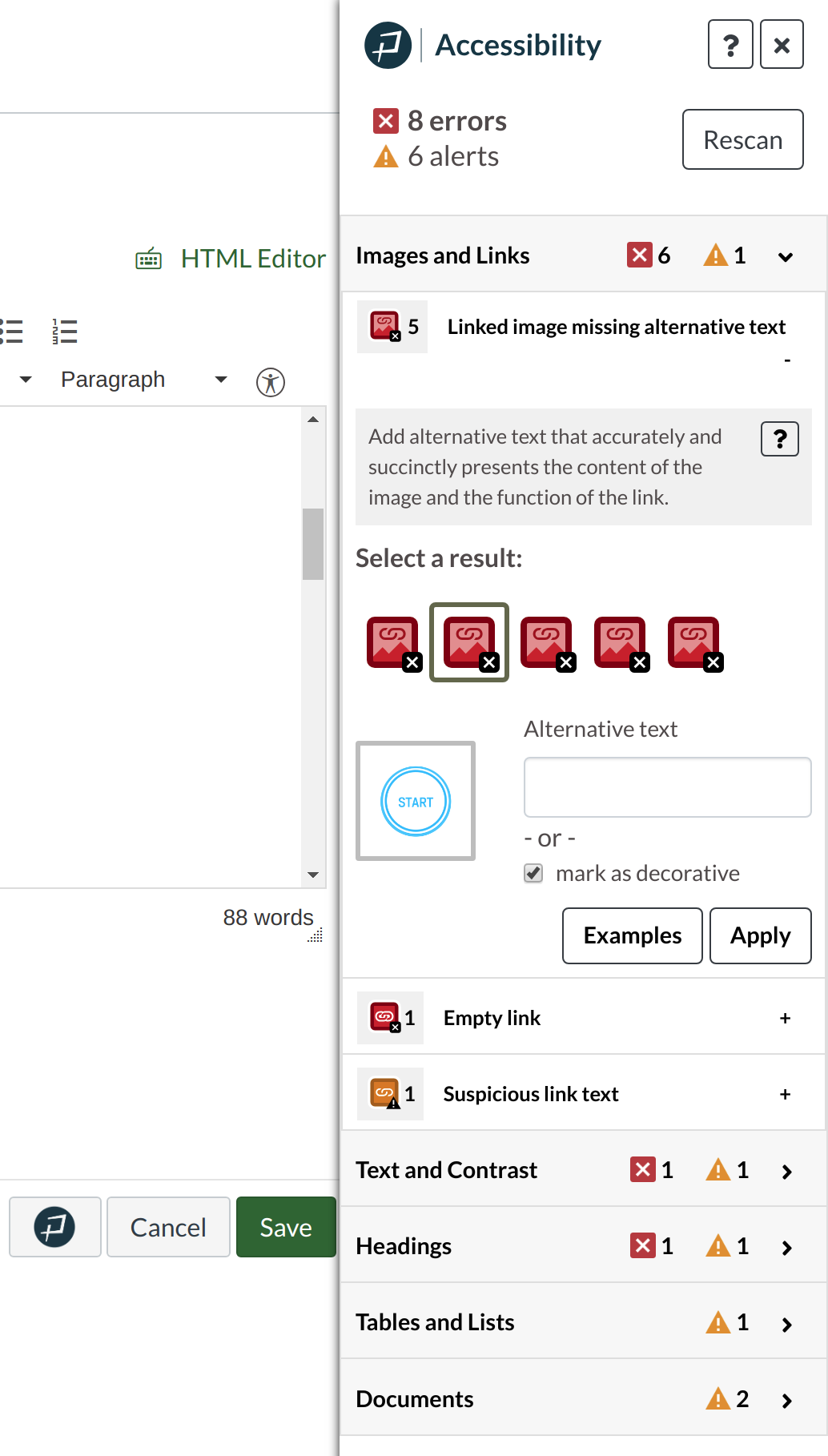 Instructor Accessibility Guide
Help instructors get feedback and create accessible content within their workflow.
Our interactive Instructor Accessibility Guide integrates WAVE accessibility tests right into instructors' Learning Management System (LMS). This provides instructors with accessible, fast, and accurate web accessibility testing for their courses as they edit them.
Our easy-to-use interface gives instructors instant feedback on detected accessibility issues on any page. Integrated documentation and examples are also provided to help guide instructors through creating more accessible content. It makes creating accessible content easier for novice and expert accessibility users alike.
Instructor Guide Video Demo
How it works
The instructor guide is added to your Canvas instance by JavaScript in the custom theme editor. Once added on any view with the WYSIWYG editor (Page, Syllabus, Quiz description, Discussion Topics, Assignment, and Announcement) an Accessibility Guide button is added next to the Save button right in the instructors workflow.

The instructor guide is powered by WAVE engine, and is organized by categories of content that are easy to understand. Some results are accessibility errors or alerts but it also includes tools to improve contrast and heading structure. Each result provides tools to help fix the issue. Once edited in the instructor guide it updates the Canvas course content as if it was edited directly in Canvas. Users can go back and forth between the Canvas editor and the Accessibility Guide.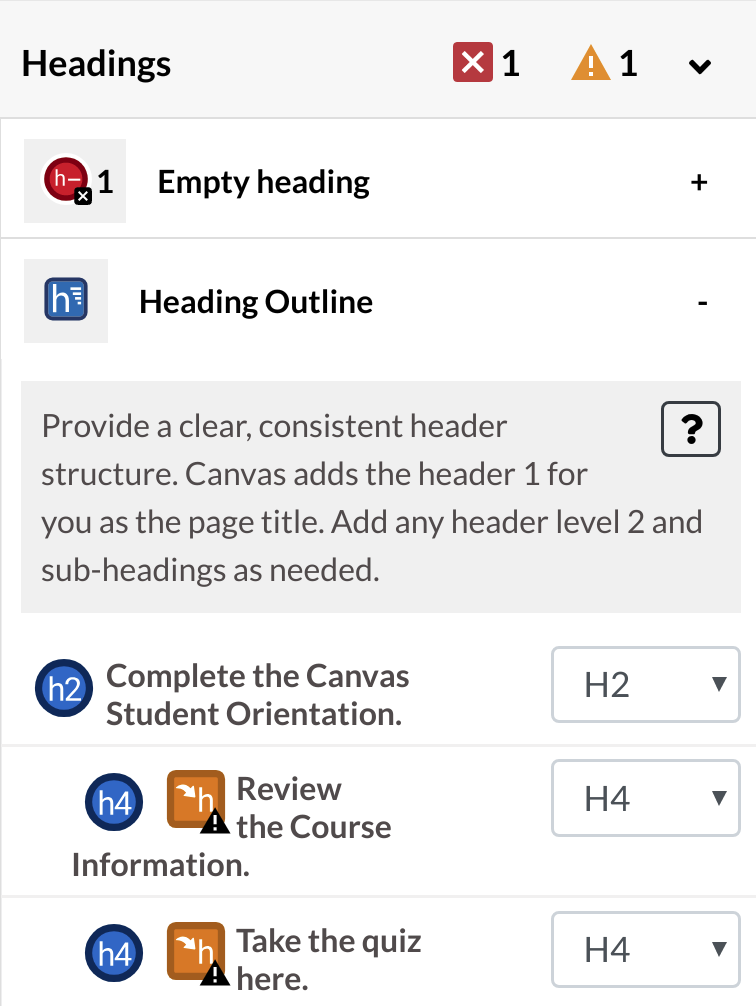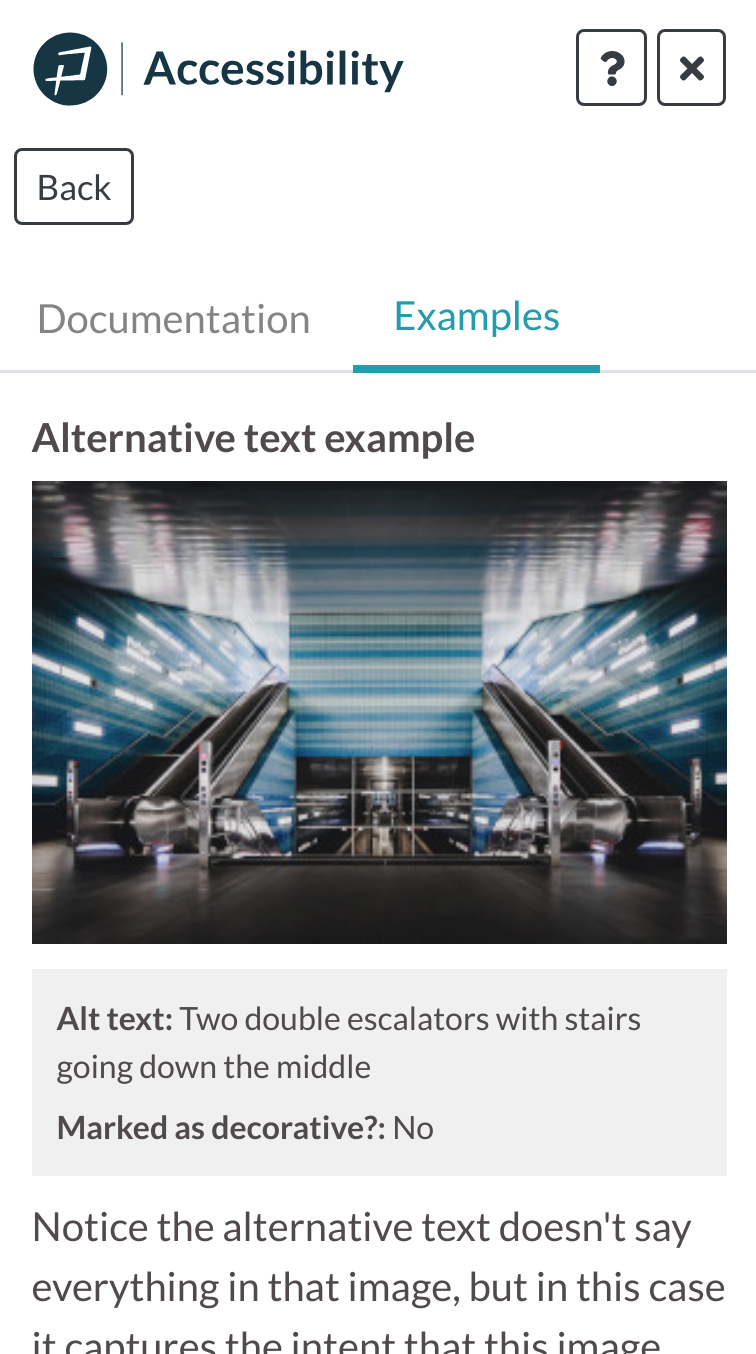 Documentation and examples
Each result has inline documentation on What a result means, Why it matters, How to fix it, the Algorithm for the test and the related Standards and Guidelines. Results have common examples of correctly applying the accessibility principle. Additionally there is an overall help button that gives an outline on how to use the guide and has a form that emails directly to whatever email you set up. Instructors can email specific accessibility help questions to an accessibility coordinator. The coordinator will receive their message along with the exact url they were on when they had the question.
---
Accessibility Dashboards LTI (proposed - seeking feedback)
Want accessibility reporting on all LMS content?
Our Accessibility Dashboards LTI provides institution-wide scanning and dashboard reporting of all LMS HTML content across all courses. The dashboard is integrated right into your LMS and the Instructor Accessibility Guide and provides each user with the level of reporting required for their role. For example:
Instructors have a summary dashboard of all their courses, individual views of each course, and can drill into the Instructor Guide to view and fix page results.
Sub account owners have access to dashboard reports of their sub account, as well as individual courses and pages.
Admins will be able to see summary dashboards of the entire account as well as sub account dashboards and individual course and page results.
This is currently a proposed project for the Canvas LMS. If interested, schedule a demo, to review our ingration plans, screenshots, and your institution's needs. We are looking for feedback and the level of interest in this integration.
FAQs
Does the Instructor guide work in the new Canvas editor?
Yes, it works the same. The Instructor guide button is added next to the save button. All functionality is the same.
What types of content do you test?
All HTML content in the LMS is tested, additionally images are tested for common issues like long, repetitive, suspicious or no alternative text. We identify external links to Excel files, Word Documents, PDFs, and other non-html documents. We don't currently test them but identify them to be tested.
What about videos?
We will be adding detection for YouTube Videos if they are present or linked to similar to detecting if an external link is linked to a PDF.
Do you provide alternate file types of content?
No, currently we don't support this feature. What features we add is determined by our users and community feedback.
Will changes made with the Instructor Guide stay if service is canceled?
Yes, all changes made with the Pope Tech LMS integrations are updated directly in the Canvas content. Nothing is stored on our servers. Although some of the changes can't easily be made directly in Canvas they are the same as if you manually edited them directly in the HTML inside of the Canvas editor.
What assistance do you offer with onboarding?
Our Onboarding and Training Team is here to assist in getting your account set up and your users trained on using Pope Tech products.There is no additional cost for onboarding or training you how to use our platform (Why should there be?).
The instructor guide is easy to use, with inline documentation and help and a growing library of support documents and videos.